About Bittner-Singer Orchards
Bittner-Singer Orchards, formerly Singer Farms, is a family farm established in 1915. Now owned by the Bittner and Singer families, our orchards are located along the shores of Lake Ontario, near Niagara Falls, NY. Our fruits are influenced by the climate and soil located along the lakeshore.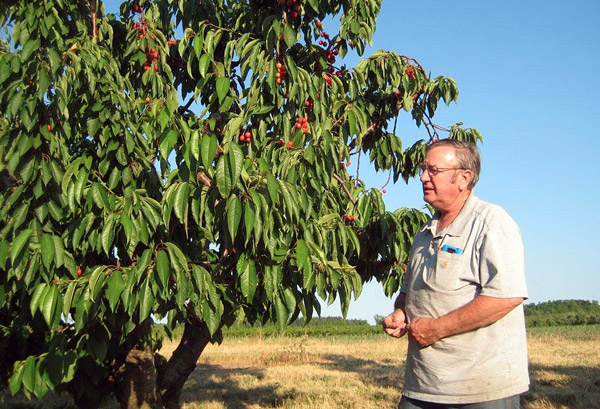 Jim Bittner checking the U-Pick cherry crop.
Jim Bittner is President and General Manager of the overall operation. As an active member of the Cornell School of Agriculture and Life Sciences Alumni Association, Bittner serves as treasurer of the Alumni Association. In 1998, he was honored by that group as the Outstanding Young Alumni. Bittner also served as President of the Niagara County Farm Bureau for eleven years until 2018.
Other current offices include being Chairperson of the Farm Viability Institute and Chairperson for the Council of Agricultural Organizations.
In 2009, The Lions Club of Barker bestowed its highest honor by awarding him the Lions Club International Foundation's Melvin Jones Award. In 2010, he was honored as Business Person of the Year by the Newfane Business Association at the Niagara USA Chamber's Niagara Small Business Day. In 2014, Jim Bittner was named Business Person of the Year by the Niagara USA Chamber.
Jim was featured in the May 28, 2011 edition of Lancaster Farming. Click here to read article.
Bittner-Singer Orchards History
The farm now known as Bittner-Singer Orchards began in 1912 when Roland Singer purchased his first farm to grow fruit and raise dairy and beef cattle.  Over the years, livestock was phased out in favor of fruit production.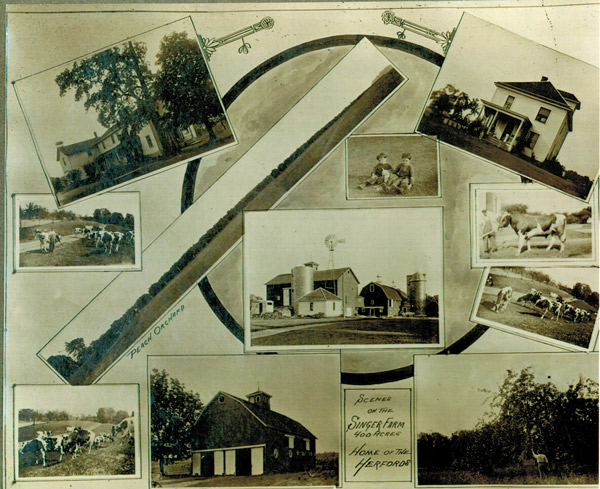 Scenes from Singer Farms
The farm moved through the generations from Roland Singer, to his son Harold and wife Grace Singer, to Harold's son Thomas and wife Jacqueline Singer.  Pete Betzler managed the farm from the 1960's until 1990.  Jim Bittner joined the Singers in 1991.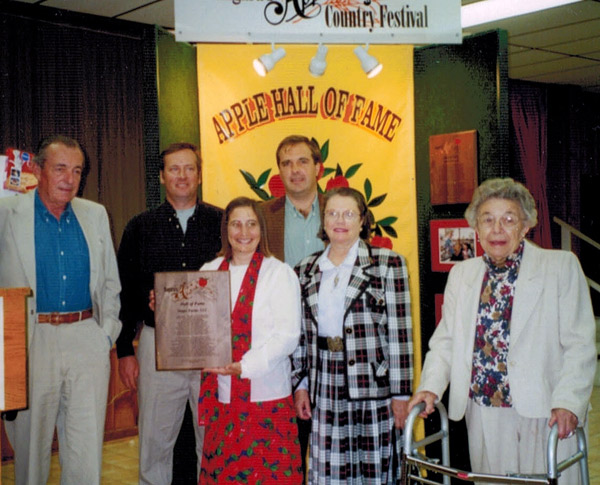 From left to right: Tom Singer, Jim Bittner, Margo Sue Bittner, Mark Singer, Jacqueline Singer, Grace Singer

The Bittner and Singer Families have owned and operated the farm since then. The team also includes many trusted and experienced employees. Their willingness to learn new skills, express ideas and work together is key in producing high quality fruit.
Bittner-Singer Orchards Today
Bittner-Singer Orchards grows a diverse mix of tree fruit.  The mix of fruit has changed over the years as markets have changed.  Processing apples have been replanted with fresh market apples.  Some certified organic apples have been added.  Processing peach and sweet cherry acreage has increased while brining cherries have been removed. In response to customer requests, we've added apricots, Japanese plums and other specialty tree fruits.  All new orchards are being planted with more trees per acre and the trees are shorter than the older orchards.  We opened our cherry orchard to the public for pick your own for the first time in 1999. We pride ourselves in working with our customers to grow top quality fruit that fulfills their needs.
Besides the U-Pick cherries, our fruit can be purchased both retail and wholesale at our stand at the Clinton Bailey Market in Buffalo.  We also wholesale fruit to farm markets, packers, stores, and processors in the Northeast.  
Bittner-Singer Orchards is fortunate to be located on well drained soils along Lake Ontario in one of the best fruit growing area in the Northeastern USA.  We are always testing new rootstocks, varieties, crops and growing techniques from Cornell University and around the world.  We strive to grow high quality fruit that the consumer demands and have fun doing it.  Hope you enjoy our fruit as much as we enjoy growing it.